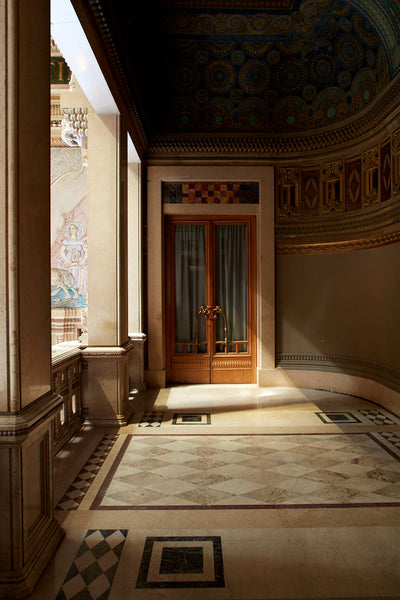 TERME BERZIERI
The royalty of a palace, the artistry of the past, the luxury of the present, and the tales of a monument: these are the legacies that manifest a sanctuary, the home to a healing journey that rejuvenates the impurities of skin and body and purifies the mind and soul.
A Sanctuary of Health
Stepping onto the property of Terme Berzieri, the ingress carves a pathway of tiled stones and welcomes the visitors between fountains, while the front façade announces THERMAE between two crouching and roaring tigers. Below the tableau, four pillars do the heavy lifting and divide the entrance by three. With sunlight glancing across the palace, this first visual impression—a kind of architectural vigor— already begins to siphon away the stress, anxiety and health concerns—even before a single toe is dipped into a thermal bath.
A Grand Staircase
On the lobby floor, the name of Dr. Lorenzo Berzieri as the harbinger of the palace remains inscribed with an image of the salsobromoiodic water of Salsomaggiore Terme. At the far end of the hall, the warm lighting washes across the space, infusing a grounding sense of tranquility. Here, two grand staircases split the pathway where midway, towering mirrors in gold frames and ornaments magnify the expanse and wide windows frame the scenic forest-clambered town outside, as the sunlight spills inside.